Register for a myLearning eSchool Course K-12
Choose the Registration menu on the Elementary, Middle, and High school website. See the High School example below.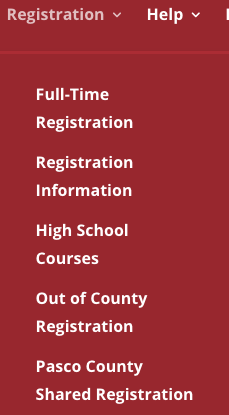 Choose the option that best fits your needs in the drop-down menu.
Complete the registration/request form making sure you submit at the bottom of the page.
You should be able to enter your eSchool course (within 24 hours of the preferred start date you indicated on the registration request form, the course will appear in MyLearning:
https://launchpad.classlink.com/dsbpc   
Pasco County students should already have their Pasco Connect username and password.
Your username is your student number; if you have forgotten your password you can use the link "Don't know your password?"
Click "myLearning".•
 Click "Courses" at the top left and click your course from the drop-down menu or you will see your course in the card view on the first page.
Out of County Students will receive an email with the link and login information on the requested start date.