Live Lesson Login Directions
Important
Please check the Live Lesson event on the calendar for more details on how or where to attend specific Live Lessons.  Live Lesson events can be found on the Live Lesson webpage. Below is an overview of the process.
Step 1
Go to myPascoconnect and choose the myLearning icon.  

Forgot your password?  Please contact your teacher.
Step 3
Check the Live Lesson course home page for current directions.
Important: You must connect your headphones and webcam if available before joining the session to avoid any problems with the audio and video.
Step 4
Choose Media Gallery from the left course navigation menu.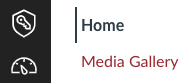 Step 5
Choose Join Meeting at the top right side. If you don't see the button expand your browser window to full width.

Step 6
If the teacher has not arrived you might see a message to wait.