Registration Instructions Grades 6-12
These instructions are to support Lab Facilitators AFTER students have registered for courses at Pasco eSchool on FLVS after registering through the Pasco eSchool website for their course(s).
1. Go to flvs.net and click Enroll. Click on County Virtual School. On the next screen, scroll down and click the Enroll button again.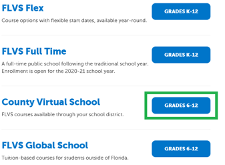 2. Follow the Prompts to Choose Your Class. Select your course, click Add to Backpack.  Add more courses or click Continue.
3. Login with Your Existing Account, or Create a New Account. Follow the simple prompts to create your first account for virtual school.  If you already have an account, you do not need to create a new one.  If you forgot your password for your old account, follow the prompts to recover your forgotten password.  You do not need to create a new account if you forgot your password.
4. Complete the Student and Parent Commitments
5. Choose Semesters and Preferred Placement Date. You may choose Semester 1, Semester 2, or All Semesters. Each semester represents a ½ credit.  Then choose a Preferred Placement Date, click Pasco eSchool,  then Confirm your course request.
6. Finalize your request and click Submit Enrollment
Your school counselor will then review your course request(s) that you've chosen and if approved you'll be placed within 24 hours.
Updated 4/16/202